Enjoy some of the best moose hunting in North America with the opportunity to harvest an exceptionally high quality trophy moose. All hunts are conducted during the rut, providing excellent opportunity to call in the BIG one. Moose 60+ inches have been taken in area, several moose measuring 55 - 66 inches have been taken and moose 42" to 60" are the average. Opportunity remains at 90% with success running 50% - 60%. Your moose hunt will consist of a full 7 to 10 days of hunting mid to late September in the peak of the rut, A large regeneration of vegetation exists due to recent and past forest fire, making this ideal habitat for BIG trophy moose. All remote camps are easily accessible by on-site floatplanes, hunters will hunt by boat, traveling to different areas by water, set-ups using repetitive calling and/or glass and stalk methods as required. Calling set ups are used and very successful in the rut hunts. Moose hunt camps will be designated from a variety of camps ranging from plush outpost camps to well appointed tent camps all with gravity feed water, freezers and generators some with all modern conveniences of home. Your camp will typically consists of only your group of 1 to 4 hunters with no more that 8 to 16 moose hunts offered annually in our many varied camps within a vast remote wilderness area. Ask for details on our combo hunts including caribou, bear, wolf, waterfowl and fishing..
---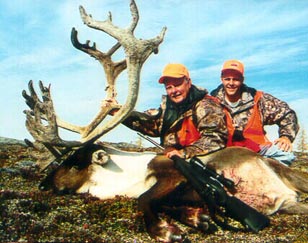 The best kept secret in hunting, The Kaminuriak caribou herd of approximately 450,000 caribou migrates from their calving grounds in Nunavut into Manitoba. Only 125 hunters @ 2 tags each = 250 non resident Manitoba caribou are allowed each year. Manitoba largest trophy caribou scored 402 B with average at 335 (B & C is 360) The quality of this herd is amazing and each caribou camp is limited to only 25 hunters/50 tags annually. The tundra offers a mix of rolling terrain and small stands of spruce, offering the advantage of spot and stalk hunts with some cover for archery or muzzle hunters. Caribou camps straddles the Manitoba and Nunavut border and sit between two major migration routes, with boat access to more lakes if required. Camp consists of a mini lodge and eight tent cabins with electricity, wood heat, a central shower house, generator and a satellite phone on site. Hunts are done on foot or by boat. Fishing, ptarmigan and wolf hunting are included and popular. Caribou hunts 5 - 5½ days - Sept 9 to September 21 Ask for details on our combo hunts.

---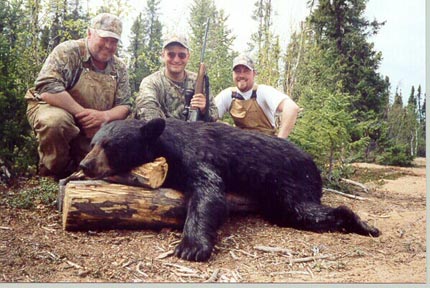 A unique area that offers virgin territory with excellent bear population, excellent opportunities at trophy color phase bears (chocolate, blonds and cinnamons) with many bears 300 to 550 lbs. The bears have never been hunted and have no knowledge or fear of people. 6 tent camps each 15 to 30 miles apart on a lake 7 to 20 miles long. Only 2 - 4 bear hunters taken per camp per week with a minimum of 100 sq. mile per camp. Stands are tree stands and tripods to easily accommodated bow hunters. Each camp has satellite phones or two-way radios, comfortable wall tents, cots and a gravity-feed water system for showering, some hunts may be conducted from our plush outpost camps. Spring Bear: 6 ½ day hunts Fall Bear: 5 ½ day hunt Why not add this bear hunt onto your moose package for just $600 plus licence and taxes*.

---

Trophy Manitoba hunts for Moose, Central Barrens Ground Caribou and Bear.
Timber and Arctic Wolf hunts and world-class fishing opportunities for huge Pike up to 35 lbs, Lake Trout up to 50 lbs, great Walleye and Manitoba's largest Arctic Grayling (species may vary by lake) are all included in your hunt costs and are available within a short distance from camp. Camp has an excellent reputation as one of the worlds finest hunting and fishing outfitters. Fishing camps have been operating for almost 20 years and hunting camps have been operating since 1995. Everything is done first class with top of the line equipment and staff dedicated to your success and making this your best hunt ever. Camps are located 100 - 3000 miles north of the last accessible roads and is one of the most remote fly in regions in North America. Sitting at the edge of the boreal forests offering hunters opportunities both above and below the tree line, hunts are conducted in a vast remote wilderness with1000s of square miles untouched by mankind - this does not even include the large caribou grounds. Areas consists of multiple river systems and100's of lakes. Year after year, new and previously unexplored area provide quality virgin hunting territory. The animals thrive here and have never seen humans before other than perhaps a lone trapper and now the hunter.

---

Drive or fly up to Thompson Manitoba 525 miles north of the US Border. From there exclusive charter will fly you to main camp with a 5000 foot airstrip located in the sub arctic of Manitoba between the 58 to 60 parallel. Here hunters are dispersed by two on-site floatplanes to individual camps. All hunt trips originate from Thompson Manitoba and are 2 hunters per 1 guide and MAY be upgraded to 1 on 1 with additional fees. All meals, accommodations, guide, plane flights from Thompson to camp and return, boats, motors and gas are included. Fishing and wolf hunting are included and popular. Fish licence are available in camp
---
For information, Dates and Rates on our hunts please phone or Contact Us by email.
---
---
[Back to Top]
---
Box 444 · Woodlands, Manitoba (Canada) · R0C 3H0
Tel: (888) 286-0433 | Contact Us
Copyright © 1992 ACE Wilderness Guiding Manitoba Hunts All rights reserved