Note: This GREAT Musk Ox hunt is in the extreme north. Spring or Fall
Hunt musk ox located along Canada's northern most Arctic coast on the edge of the tree line. Here you will find some of the worlds most exotic animals - the prehistoric musk ox and the barren grounds caribou. The remote hunting areas are spread over an expansive area where animals are plentiful. Here hunting pressure is non-existent, providing a great opportunity for hunters to fulfill their dream. Success rates are extremely high on trophy class musk ox . The tundra has many eskers and ridges allowing you to get on higher ground to glass. The eskers and ridges also provide good ground cover enabling hunters to get within rifle muzzleloader or bow range. The terrain is generally dry and rocky. Typically you will see several scattered bands of musk ox before making your final hunt. This location is easily accessible by scheduled plane from Yellowknife and hunters then travel by snowmobile and all terrain vehicles (weather permitting) into the hunting areas. The spot and stalk method is usually the recommended way to hunt. Our experienced Inuvialuit guides are all hunters themselves and extremely knowledgeable and know the musk ox and the hunt areas well. Their expertise ensures that each client will be positioned in the best hunting location possible.
---
---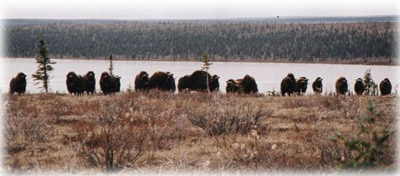 Musk ox population has been on the increase for years and our area has one of the largest concentrations in the Arctic. The musk ox is an extremely sturdy animal that inhabits this remote wilderness area year-round well above the Arctic Circle. When threatened, it forms a protective circle, making it easy for hunters to spot their trophy. When intimidated or threatened, they try to intimidate their would-be attacker. They do this by stampeding or forming a defensive line, a technique where they stand shoulder to shoulder and stare down the predator. If the predator does come too close, musk oxen will use their horns to either spear it or throw it around. Like the bison, musk ox have very long life spans and are extremely large animals - they can grow to eight feet in length and weigh close to 800+ pounds. These animals live on the arctic tundra and spend most of their time on hilltops or in river valleys and meadows. They travel in packs of 10-20 and must move continually to maintain food supply, often traveling as far as 15 miles in a day. Musk ox hunts are conducted in March until the end of April as well as from Mid August to Late October. Guides travel with hunters to the areas where the Musk Oxen are grazing by snowmobiles or all terrain vehicles, dependant on the weather, with the final stalking done on foot. All hunts are one on one with every effort being made to ensure a successful hunt. The guides are English speaking local Inuvialuit who are well versed in hunting techniques and traditional land and animal knowledge. Typically there will be only 1 or 2 hunters in a group - but 3 or 4 can be accommodated if your group is larger.
While the trip is scheduled for five, the hunting time can be shorter due to the abundance of musk ox. You should have the opportunity to look over great numbers of musk ox and anticipate a successful hunt.
---

Expect to see some beautiful sunsets and spectacular northern lights as the sky becomes alive in a blaze of glory... the famous Aurora Borealis. Bring a camera and capture these memories, the experience is unforgettable!
Wolf and wolverine are seen frequently and occasionally taken. Keep in mind that this trip is in local winter so fishing is not an option on Spring Musk - ox trip. Lake Trout and Northern Pike are in the area. With the arctic climate, fish take longer to reproduce so we practice catch-and-release and require barbless hooks, so we can assure great fishing for the future.
---

*Remote Wilderness Hunts: Depending on the travel and location of the musk ox band - your hunt typically will be from remote tent camp established in close proximity to where the musk ox are spending their days. Camp accommodations may be near town or out as far as required to locate the best hunting. This camp will do everything possible to make sure hunters are as comfortable as possible in remote tent camp. The main focus will be to put the hunter in the best location for a quality hunt with out an excessive amount of travel from accommodations to hunting grounds.

A non-hunting companion can join you on this hunt for an additional fee.
---

Musk ox hunts are 3-5 days. Bow hunters, Muzzleloaders or Rifle hunters welcome. A very limited hunters are accommodated for musk ox hunters each year. Outfitter prefer small group of 2 (or 3-4 hunters- if necessary). The hunt is scheduled for 5 days, but is usually shorter due to abundance of game. Hunts end when animal is harvested.


| | | |
| --- | --- | --- |
| | Musk Ox Season | September 15th to April 30 |
Temperatures in the barren grounds can vary from year to year, March should have temperatures ranging from -20 to -50F. April should be a bit warmer with temperatures of 35 to -20F. Being well prepared with proper clothing & gear will maximize your comfort on this arctic adventure.
Hunter may take meat home with them, but they should bring meat bags and duffel bags for the meat. Trophy bull Musk Ox meat is not typically considered very good.
CITES and Wildlife Export Permits are available at Resources, Wildlife and Economic Development offices in Inuvik. There is no fee for these export permits. However, non-resident and non-resident alien hunters are required to pay a trophy fee when exporting big game they have harvested.
Musk Ox $150.00 CAD plus GST trophy fee per musk ox.
List of references available upon request
---

Home cooked meals
Tent accommodations
Services of a licensed guide
Transportation during the hunt
All skinning, fleshing, salting and meat processing
---

Travel expense to and from NWT or Holman
Meals and accommodations before and after the hunt
License and trophy fee and 3% GST tax
Excess baggage and/or over weight charge
Costs for shipping and taxidermy fees
Gratuities and personal effects.
---

Air transportation into Yellowknife, NWT is convenient with daily jet service from USA, Europe, Asia and Southern Canada. Also accessible by the renowned Dempster Highway which is open year round with the exception of two 4 week periods in the spring and fall when access by ferry or winter roads is unsafe. A trip down this highway adds to the experience with dramatic scenery and wildlife viewing, a true wilderness adventure.
Guests drive up or fly into Yellowknife, North West Territories, Canada via Edmonton Alberta, Canada and then on to Holman (flights Tuesday, Thursday and Saturday). Our E-Brochure contains a lot of details on this remote travel arrangements and a local NWT travel agent to assist hunters with travel.
We will send complete details in our referral E-Brochure - upon specific request of info.
---
For information, Dates and Rates on our hunts please phone or Contact Us by email.
---
---
[Back to Top]
---
Box 444 · Woodlands, Manitoba (Canada) · R0C 3H0
Tel: (888) 286-0433 | Contact Us
Copyright © 1992 Ace Wilderness Guiding Manitoba Hunts All rights reserved